Liking and being good at something are two different things.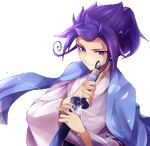 This article, Team Kenta, is under protection by
Nigel V. Swan
. No user is allowed to edit or interfere in any way with the content in the page unless specifically permitted by the owner.
This article is currently undergoing construction, and the author(s) promises to finish it soon or is doing so now.
Team Kenta is a team led by Kenta, consisting of him and his chūnin disciples.
There are no official missions for Team Kenta as of yet.
The Sarutobi clan's tradition if a member of the Yamanaka, Nara or Akimichi clans is to be placed in a team, they will be appointed with a jōnin-sensei from the Sarutobi Clan; however, the roles on this Team are reversed, as Miya, a member of the Sarutobi clan, is being taught by an Akimichi clan member.

Miya also takes charge in missions in the absence of Kenta, making it even farther away from the latter fact.
Ad blocker interference detected!
Wikia is a free-to-use site that makes money from advertising. We have a modified experience for viewers using ad blockers

Wikia is not accessible if you've made further modifications. Remove the custom ad blocker rule(s) and the page will load as expected.