This article, Kibawomoku, has been opened to be freely used though not edited by any user.
Kibawomoku
is the personal Ninken of Suguha Inuzuka of Inukagakure of the Land of Wolves.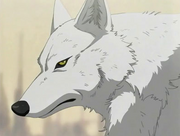 Appearance
Edit
Kibawomoku is a large wolf with thick, fuzzy, snow white fur, two long, pointy ears covered in fur, and hazel-golden eyes, a large, round, black knows, and many long, thick, sharp teeth. 
Personality
Edit
Powers and Abilities
Edit
Chakra Powers
Edit
Relationships
Edit
Battles and Events
Edit
Story Battles
Edit
Roleplay Battles
Edit
Story Events
Edit
Roleplay Events
Edit
Story Kills
Edit
Roleplay Kills
Edit
Appearances
Edit
Story Appearances
Edit
Roleplay Appearances
Edit
Ad blocker interference detected!
Wikia is a free-to-use site that makes money from advertising. We have a modified experience for viewers using ad blockers

Wikia is not accessible if you've made further modifications. Remove the custom ad blocker rule(s) and the page will load as expected.