This article, Kamen, is the property of Kaitan.
Kamen

Name
Kamen
Kanji
カメン
Rōmaji
Kamen

Personal Status

Gender
Female
Height
5'11"
Weight
182 lbs
Blood Type
AB

Relationships

Home Country
Land of Rain
Affiliation
Tekkō
Previous Affiliation
Akatsuki
Occupation
Dictator
Team
Two Tyrants
Partner
Kurozaya

Ninja

Rank
Jōnin
Classification
Shinobi

Skills

Weapons
Senbon
Kamen (カメン, Kamen) is the second dictator of Tekkō and the handpicked successor of Kurozaya.
Background
Edit
Personality
Edit
Abilities
Edit
Kamen was strong enough to handily defeat Takezō and his company of rōnin during their first attempt on Tekkō.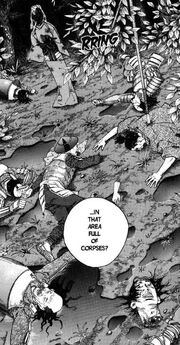 However, she died fighting against a retrained Takezō, Hansha Uchiha, Bunmei Gōtō, and Anjin Uzumaki.
When written as 仮面, Kamen means "Mask."
Ad blocker interference detected!
Wikia is a free-to-use site that makes money from advertising. We have a modified experience for viewers using ad blockers

Wikia is not accessible if you've made further modifications. Remove the custom ad blocker rule(s) and the page will load as expected.